Maybe it's just me, but does anyone else have the problem where every purse they buy is bigger than the last? I have been very reluctant to succumb to this slippery slope down to what I fondly call "Mom Purses" but it seems that the transformation is now complete.
First, a short history. My first purse that I can remember carrying was the epic symbol of the '90's, the mini backpack. It was denim. It was tiny. It was awesome. Over time the purses got a little larger and became the little bags you see stuffed into people's armpits because the straps are so short it's really the only place they can conceivably fit. I had one with rhinestones and a Coca-Cola logo on it and a cream faux-alligator one. There was a short phase in high school when I liked longer strapped, over the shoulder purses (but still small bags, don't forget) because they were easy to carry while also lugging a monster backpack everywhere. I had a black Emily the Strange bag that I LOVED and a blue and white tie-dyed jersey bag that went with me everywhere. I would carry these purses until they practically fell apart. All of the rhinestones came off of the Coke purse and the jersey bag had become a nasty grey color before they were retired. I loved my little purses. I remember each one fondly and still have most of them.
But something changed when I got pregnant. I was diagnosed with gestational diabetes and suddenly had to carry so much more with me. I had to carry my blood sugar meter and all of its accessories and snacks for every two hours while I was away from the house. Also, I had to keep a small blood sugar journal to keep track of my levels. Suddenly, the little purses would not cut it. I made use of "The Burma Bag" that I'd gotten as a gift from a cousin when I was 13 and thought was seriously cool but too big to carry day-to-day. I became accustomed to the larger bag and things were good.
Then, Eli and Jude were born. Again, I was finding that the amount of stuff I needed to carry around with me just didn't fit in the Burma Bag. I made it work for a few months because I was VERY reluctant to get an even bigger purse but was persuaded when Travis bought me my first designer purse for my birthday last year. The blue Vera Bradley purse has been amazing - durable, spacious, and beautiful - but now that we're reaching a point when the diaper bag is being phased out and more child items are being put in my purse, it is time once again for an upgrade.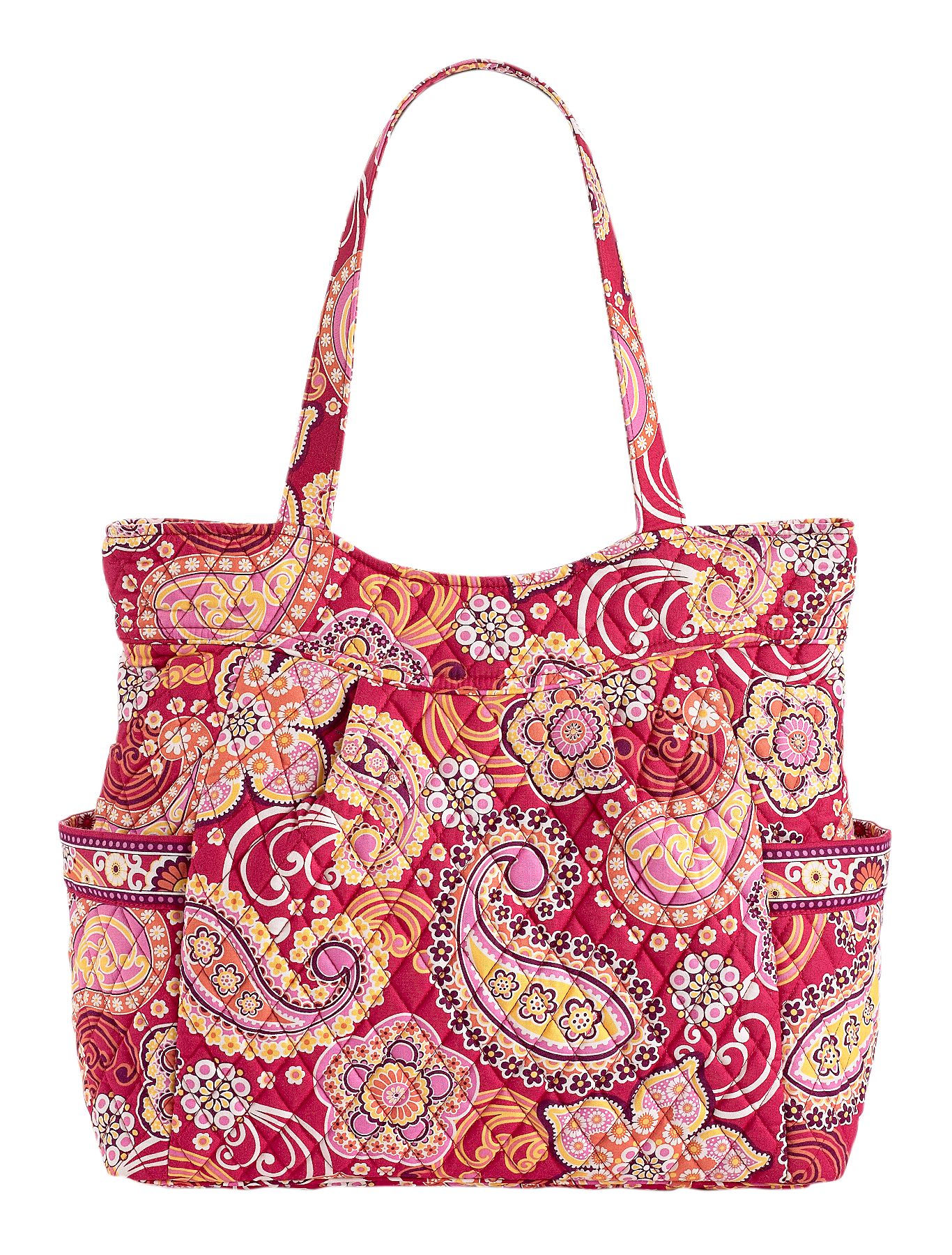 As an early birthday present, Travis bought me a new Vera Bradley bag (this is not the exact color, but you get the idea) that I was at first very skeptical of. It was a hard enough transition to the LAST purse, how could I possibly handle getting a bag that even classified itself as a "tote?" I had a minor crisis about my self image then sucked it up. I need more space and that is that. What's worse? After using it on the airplane, I ALREADY think that I could get a bigger bag! What is wrong with me?